Thanks to optometrist Evija Gulbinska from the Latvian American Eye Center for agreeing on a short conversation about eye health, blue light and its impact on eye health.
Read the interview below:
What are the main causes of deteriorating eye health? (possibly nowadays the cause is technological development)
Evija: The health of the eye, like that of the whole body, is affected by our daily habits and heredity. Eye diseases are often inherited, but sometimes they are also acquired - caused by injuries, other diseases or lifestyles.
How to improve / maintain good eye health? Your tips / suggestions?
Evija: Everyone should monitor the health of their eyes, as well as perform regular examinations by a specialist. It is recommended to have your eyesight checked at least once every 3 years, every 40 years after the age of 2.
Can you tell us a little bit about the blue light? What it is and how it affects it our eye health?
avoid: Blue light is called the part of the spectrum of visible light with the shortest wavelength, often ultraviolet waves are often mentioned next to blue light, which would not be correct, because visible light does not contain UV rays. It is believed that the blue light emitted by monitors and smart devices has a negative effect on the health of the retina, but there is unfortunately no scientific basis for this claim, as sunlight contains the full spectrum of visible light and also the range of ultraviolet (UV) waves. Prolonged exposure to UV rays may cause or contribute to the development of various ocular diseases (eg cataracts, macular degeneration, pterygium).
How best to avoid blue light and its effects? Your tips?
Evija: We encounter the blue light not only when working with smart devices or computers, but also outdoors. The light emitted by the sun contains light of different wavelengths (including blue and ultraviolet). Contact with blue light cannot be avoided, but we can reduce it or use special protective equipment, such as sunglasses with UV protection or optical glasses with a blue light filter.
On the websites you can find many different exercises for eye relaxation, but what are the best?
avoid: The simplest and also the most effective eye exercise when working nearby (reading, writing, working on a computer screen, etc.) is the 20-20-20 rule, ie every 20 minutes of work requires 20 seconds to look at a distance of at least 20 feet (~ 6m). It is also necessary to exercise not only the eyes, but also the whole body, not forgetting the eye movements (full eye movements in different directions - up, down, right, left, view of the nose).
Evija Gulbinska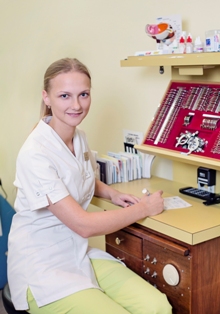 Work is love that has become visible. (H.Jebrans)
Education
from 2013 University of Latvia, Faculty of Physics and Mathematics, Department of Optometry and Vision Science, Professional Master's Degree Program in Optometry
2010 - 2013 University of Latvia, Faculty of Physics and Mathematics, Department of Optometry and Vision Science, Bachelor of Optometry study program
Work experience
from 2012 Latvian American Eye Center, physician's assistant, optometrist
2012 Optometry center, assistant optometrist
Vocational education
2014 7th International Acuvue Eye Health Advisor Symposium, Warsaw, Poland
2013 E.Gulbinska, G.Ikaunieks, Influence of optical defocus on positive and negative contrast visual acuity, LU 71st scientific conference, Riga, Latvia
2012 LU MF Department of Ophthalmology, seminar "Refractive errors in surgical treatment", Riga, Latvia
Member of the Latvian Association of Optometrists and Opticians since 05.2012.
https://blinkely.lv/wp-content/uploads/2021/04/evija-gulbinska_1889800530.jpg
363
545
admin
https://blinkely.lv/wp-content/uploads/2020/11/Majaslapai-RGB-300x138.jpg
admin
2021-04-09 09:57:23
2021-04-09 10:01:50
Optometrist Evija Gulbinska - about blue light and its effect on eye health